Growing up in PIttsburg, CA, Julie Enea (nee DiMaggio), left, gained a love of music, theater and performance through school and church choirs, marching band, local theater, and singing in a series of bands under mentors that include the great Orrin Cross III and George Lumbre. She co-founded Vocal-ease, later augmented with The Boogie Men, to become one of the premier Bay Area concert and dance bands spanning three decades. Julie enjoys arranging harmonies for the ensemble and especially performing for Bay Area and hometown audiences. She finds the business and performance aspects of music a great departure from her day job in county government administration.
Betsy Osborne Kohler, center, was born and raised in Antioch and is a graduate of Antioch High School. In 1977 Betsy joined the Good Shepherd Folk Choir in Pittsburg, where she met her musical mentors. For more than 35 years, Betsy has been singing with Vocal-ease and the Boogie Men at concerts and other functions throughout the Bay Area. Betsy is also a member of the Pittsburg Theater Company and enjoys performing in musical productions. Along with her sister-in-song, Julie DiMaggio Enea and her real-life sister, Barbara Osborne Kennick, Betsy continues to enjoy singing harmony. She also continues to sing at the 10 a.m. mass every Sunday at Church of the Good Shepherd—where it all began!
Barbara Osborne Kennick, right, is a native of Antioch and a longtime resident of Walnut Creek. In the 1980's she followed her sister Betsy and joined the Good Shepherd Folk Choir, where she still sings every Sunday. Barbara enjoys musical theatre and has performed in several local shows with the Pittsburg Theatre Company, along with her sister, and she is thrilled to be the newest member of Vocal-Ease. Barbara is grateful and blessed to have been given the opportunity to join the talented musicians in this band and to continue the tradition of singing with her sister! 
On guitar and vocals is Bill "Weelyum" Rodrigues, right. Bill is an Antioch, California native who recently retired as a music educator in the Oakley Elementary School District after 38 years. Influenced by the Beatles and others, Bill's performing career began while he was a student at Antioch High School and has continued throughout his life. In addition to performing with Vocal-Ease and The Boogie Men, Bill leads music each week at Holy Rosary Catholic Church in Antioch.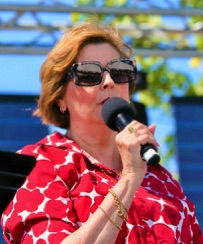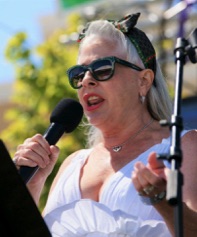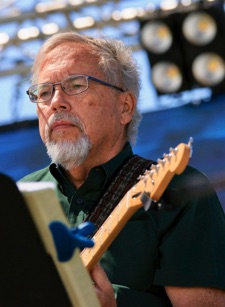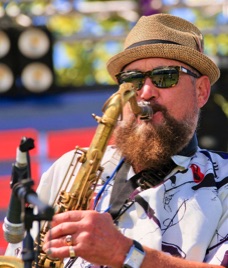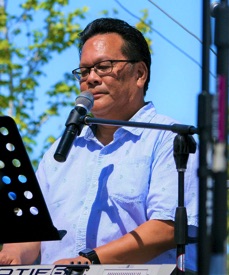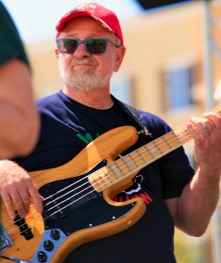 Ned (the "Italian Stallion") Canepa, left, is a lifelong resident of Pittsburg, is a founding member of the Boogiemen, and plays bass and trumpet. He has also played in a variety of bands in the area. In addition to music education, he has had training in live sound reinforcement and has supported churches in live sound and training technicians.
After his retirement from USS-POSCO as an IT manager, he developed and taught music appreciation to elementary school classrooms giving young students hands on experience of a variety of instruments and singing.
On piano and vocals is Jess Reyes, right. Jess Reyes is a California Bay Area native who enjoys a multi-faceted musical career as a performer, music technologist, and educator. Jess' music technology career spans over twenty years, including ten years as the lead project manager for Apple's GarageBand music production application—and today he teaches it. Pittsburg High School, Jess' alma mater, is happy to have him teaching classes in the recording arts and helping students to learn how to use—you guessed it—GarageBand!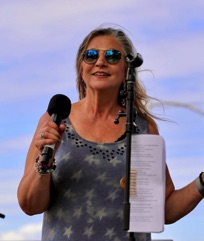 Newest Boogie Man Kevin Galloway, right, thrills us on saxophone and is also the band director for the Pittsburg Unified School District.
Drummer Larry "Animal" Widener, left, is a versatile musician who has played many styles from Symphony Orchestras, Dixieland, Funk/R&B and Rock and Roll. Larry plays drums/percussion, trombone and bass, he also sings and conducts. Larry is a retired music educator, having taught 34 years of high school and college music. He always enjoys performing with Vocal-Ease and The Boogie Men.